New York City Department of Buildings mandates that all workers at major construction sites must have had the OSHA 10-hour Construction Industry safety class within the last five years. DOB inspectors regularly visit job sites to check for OSHA cards, and any laborer without an OSHA card will be ejected from the job. Taking this course helps students to remain safety compliant and maintain their current employment or to become safety compliant as a first step towards qualifying to be hired in the construction field.
SCHEDULE
OSHA 10 in English:
Brooklyn:     TUES & WED, 9:00 AM – 3:00 PM
                       WED & THURS, 4:00 PM – 9:30 PM (only certain weeks)
                       SAT & SUN, 9:00 AM – 3:00 PM
Harlem:        SAT & SUN, 10:30 AM – 4:30 PM certain weekends
The Bronx:   SAT & SUN, 9:00 AM – 3:00 PM (MOST weekends)
OSHA 10 in Spanish:
Brooklyn:       SAT & SUN, 8:00 AM – 2:00 PM Every other weekend
The Bronx:     SAT & SUN, 8:00 AM – 2:00 PM Certain weekends
 Online discounts are available if you pre-pay for your class though our website.  
Onsite classes are available for a minimum of 10 learners at $180 per person.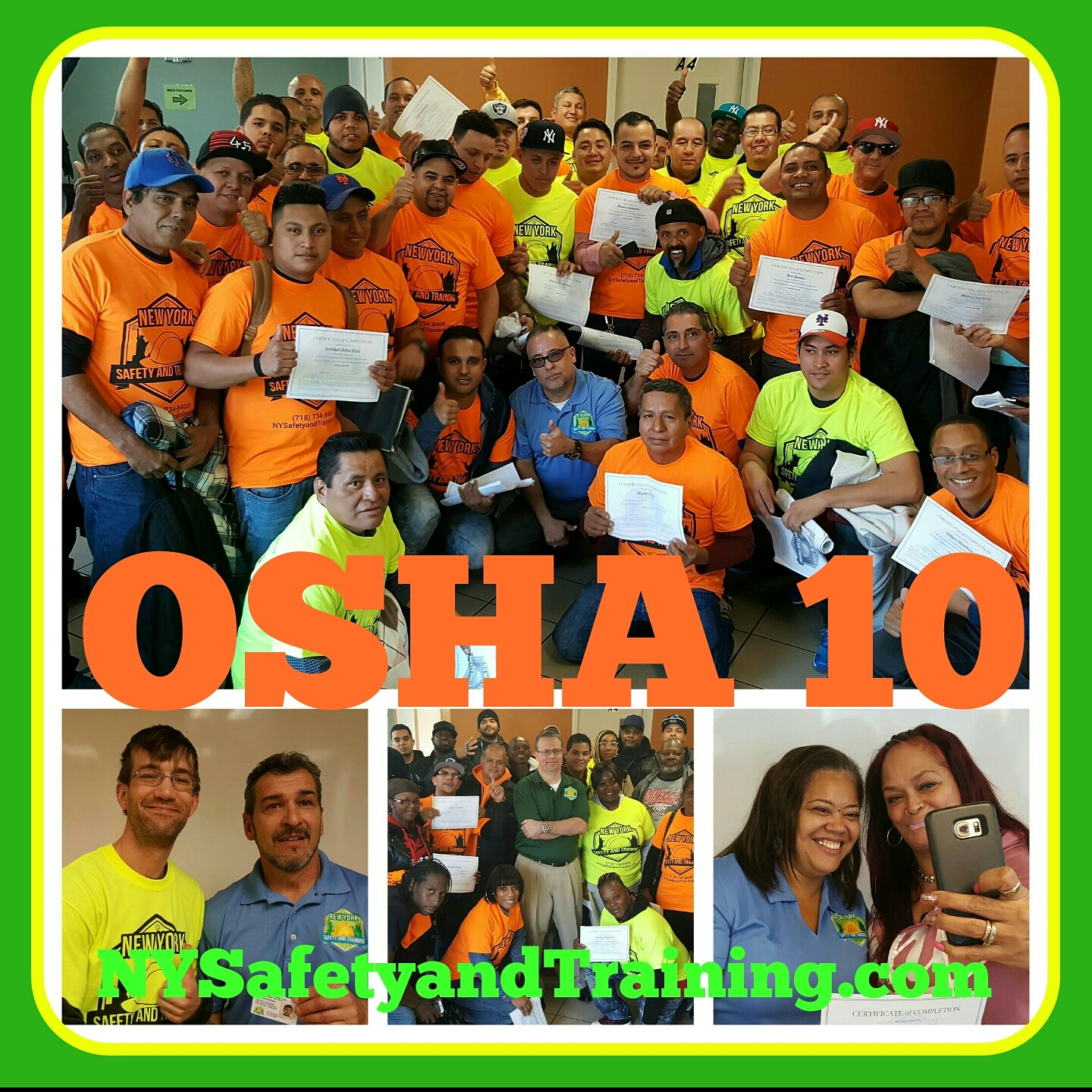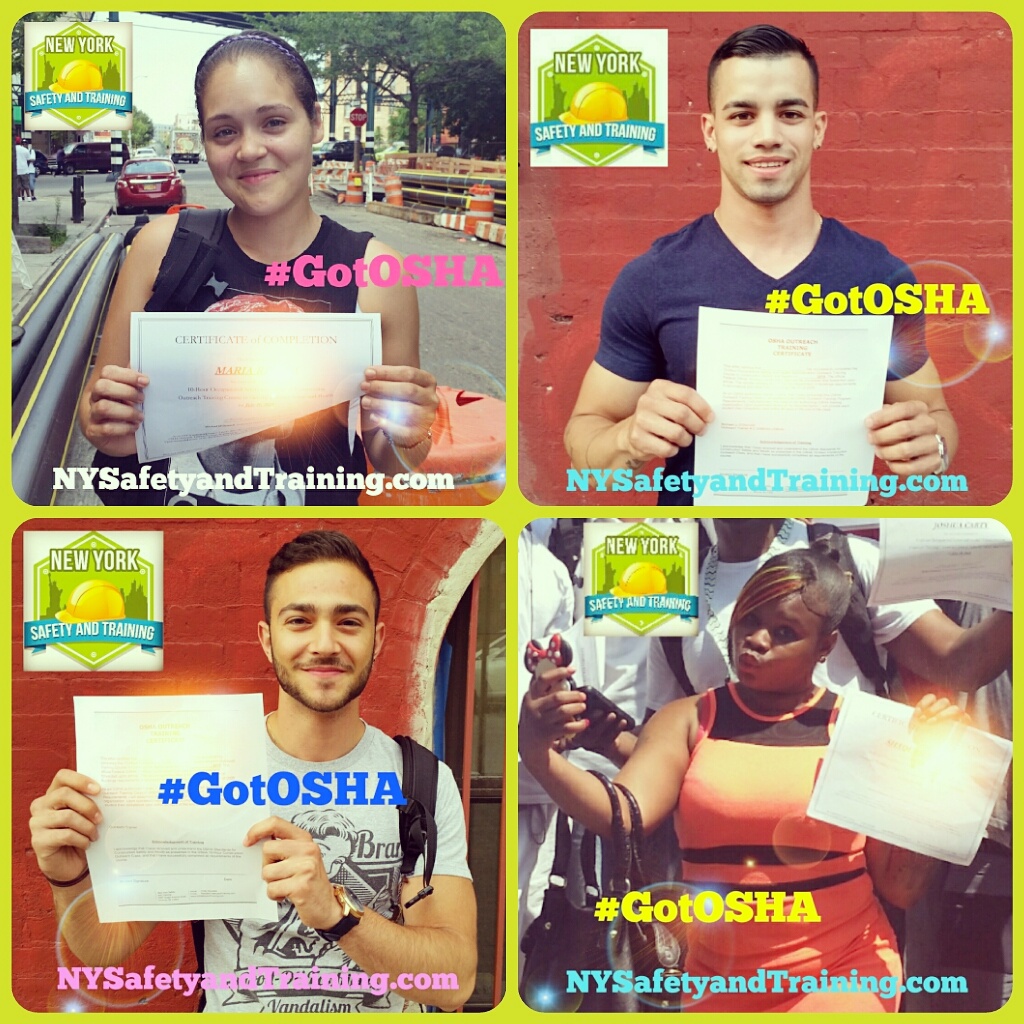 OSHA 10-Hour Construction Industry Class Description.
The 10-hour OSHA Construction class is arranged over two 6-hour days. Each day consists of five hours of class time and class breaks.  The class caters to all types of learners, be they visual, auditory, or kinesthetic by combining class lecture with powerpoint slides, group discussions, videos, worksheets and quizzes, and hands-on practical segments.
OSHA 10 Construction Certificate and OSHA card.
At the end of the 2-day class, all students will receive a temporary course completion certificate.  This certificate is valid in New York City for 90 days and allows students to legally work until their OSHA card arrives.  Each OSHA card is created by OSHA, part of the federal government, and mailed to NYST.  NYST then  mails each card to the address provided by the student.  Students will receive their OSHA cards by mail in approximately one month, if not sooner.
OSHA 10-Hour Construction Industry – Designated Training Topics.
This training program is intended to provide entry level construction workers information about their rights, employer responsibilities, and how to file a complaint as well as how to identify, abate, avoid, and prevent job related hazards on a job site.  The training covers a variety of construction industry safety and health hazards which a worker may encounter. Training will emphasize hazard identification, avoidance, control, and prevention, not OSHA standards. OSHA mandates that the 10 hours of training be broken into 7 hours of mandatory topics, 2 hours of elective topics, and 1 hour of optional topics as follows:
Mandatory – 7 hours
Introduction to OSHA – 2 hours.
Covers workers' rights, employer responsibilities, and how to file a complaint.  It includes helpful worker safety and health resources.  It also provides samples of a weekly fatality and 3 catastrophe report, material data safety sheet, and the OSHA Log of Work-Related Injuries and Illnesses.
Fall Hazards in Construction – 1.25 hours.
Covers fall protection and related fall hazards encountered on construction sites, including how to remain safe and the proper techniques to establish fall protection.
Electrical Hazards in Construction – 1 hour.
Covers electrical hazards and the dangers involved with working with electrical equipment and circuitry within the construction field.
Struck By Hazards in Construction – 1 hour.
Covers hazards on construction jobsites that relate to falling and flying objects including vehicular strikes.  Emphasis is placed on recognizing the hazard and avoiding the hazard.
Caught-In-Between Hazards in Construction – 1 hour.
Includes hazard awareness of trench collapse, machine guarding, and entrapment situations where workers can be caught in operating machinery or pinched between opposing objects.
Personal Protective Equipment – 1/2 hour.
Covers the proper, effective use of personal protective equipment (such as hearing protection, safety goggles, and gloves), including statistics of injuries related to the failure to properly use personal protective equipment.
Hazard Communication, Health Hazards, and Silica– 1 hour.
Covers the proper way to label and catalogue hazardous materials and chemicals, such as cleaners, solvents, and paint, and how to avoid chronic exposure to hazardous substances including silica.
Elective – 2 hours
The instructor will teach two to four of the following topics:
Scaffold Hazard Awareness
This topic covers scaffold hazards including falls, improper usage, improper erection, and the various safety systems to keep workers safe while using scaffolds.
Trench and Excavation Hazards
Excavation and trenching are among the most hazardous construction operations. This topic introduces learners to the hazards of trench and excavation safety as it is encountered in the construction process.
Confined Space Hazard Introduction
Introductory Hazard Training that refers to an area which is enclosed with limited access which makes it dangerous.  Hazards in a confined space often include suffocation by un-breathable gases which may be present but not visible or submersion in liquids or free-flowing granular solids.
Ladder Safety
Ladder Hazard awareness, including how to properly select, use, and maintain ladders to ensure construction site hazards are minimized.
Respiratory Protection
This topic covers the dangers associated with potential exposure to pathogenic airborne contaminants that can cause acute and chronic diseases among construction workers.
Ergonomics
This topic teaches how the use of Ergonomics, which is fitting a job to a person, helps lessen muscle fatigue, increase productivity, and reduce the number and severity of work-related musculoskeletal disorders.
Safety and Health Program
This topic teaches considerations for creating, implementing, and enforcing your own workplace Safety and Health Programs.
Optional – 1 hour
There is also an hour reserved for optional safety training.  We can tailor an additional topic to a specific client (such as water safety if the client is a school with a swimming pool), or what most often happens is this hour is reserved for any of the previous topics that the students are particularly engaged in and want to spend more than the allotted time on.  It is often helpful for the instructor to have this hour at his or her disposal to be able to devote to any topic in which the students are especially engaged.